Homozygous Black Arabian Stallion Standing
Breeder of Black & Homozygous Black Arabians
Breezy Acres Arabians
Broodmares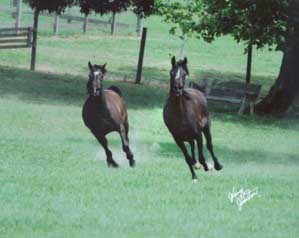 Breezy Acres Arabians is a small Quality-driven Black Arabian breeding farm. Having owned Arabians for 20+ years, a lot of forethought and experience have gone into selecting the broodmares we have for our program.
We will only offer two foals a year. Those foals will always be black (and Homozygous Black), typey, tall, have a person-oriented temperament ...and will be able to move. We have confidence in saying this due to the exquisite broodmares we have sought out and the quality of our stallion that they will be crossed with.
To read more about each Broodmare, click on their picture below.
Basks Ebony Angel RB Serr Lela
If you want Type that can Trot, we have it Tall with level-headed Temperament ...all in Homozygous Black color!
Home About Us Faheem Al Maas Faheem Al Maas Video Broodmares Sales Foals by Faheem
Photo Gallery Breeding Info/Contract Facilities Color Genetics Contact Us Sitemap