Homozygous Black Arabian Stallion Standing
Breeder of Black & Homozygous Black Arabians
Breezy Acres Arabians
RB Serr Lela
1998 Homozygous Black Straight Egyptian/*Turfa Mare
TC Moniets Legacy (x The Minstril) x Serr Mara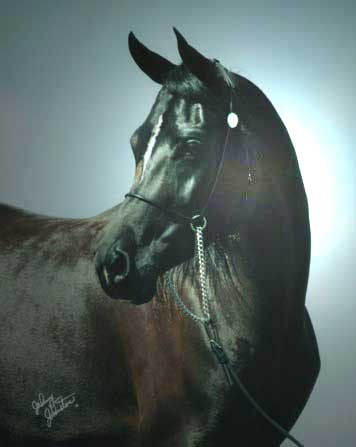 Lela is an absolutely stunning, very refined, extremely typey, Homozygous Black Straight Egyptian-*Turfa granddaughter of The Minstril.
At very close to 15 Hhs, this mare will blow you away with her good looks. Her head is exquisite with a huge eye, extreme dish, and a tiny teacup muzzle.
Not only is Lela striking to look at, but very pleasant to be around. Though she is not pushy, she definitely lets one know when it's her turn to be scratched by gently touching your face with her muzzle.
Lela also likes to showoff her lofty trot. She is so typey with such a level topline ~in motion, she is beauty and grace floating on air.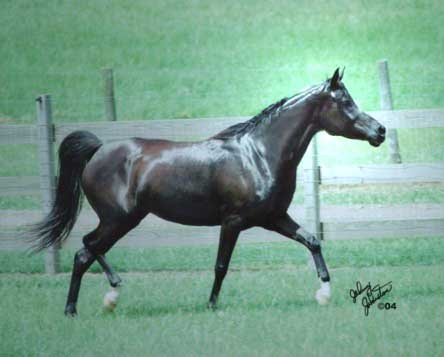 Above picture taken at 3 months pregnant!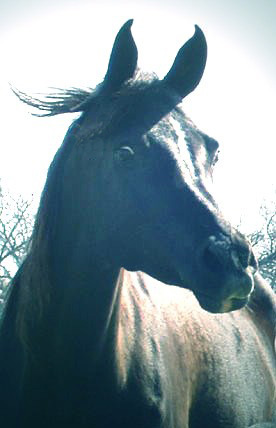 Gorgeous Huge Eyes, Tippy Ears & Deep Dish!
Above picture taken just a couple of days after foaling her second foal.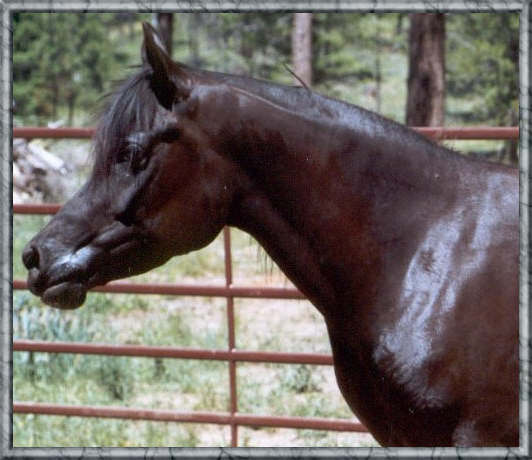 Exotic head!
RB Serr Lela

Click on thumbnail above for a quick look at Lela's Pedigree
or
view Lela's Pedigree with Pics here.
---
Lela's foals...
Click on thumbnails below to get a closer look at the foals
that Lela has produced.
2007 Homozygous Black filly x Faheem Al Maas
Prettiest Filly we've ever produced!
2006 Homozygous solid Black filly x Faheem Al Maas
Legs, legs ...and what a head!
Photos taken at 1 day old!
2005 Homozygous solid Black filly x Faheem Al Maas
5 days old 4 months old
Look at those legs! What a head!
If you want Type that can Trot, we have it Tall with level-headed Temperament ...all in Homozygous Black color!
Home About Us Faheem Al Maas Faheem Al Maas Video Broodmares Sales Foals by Faheem
Photo Gallery Breeding Info/Contract Facilities Color Genetics Contact Us Sitemap