Homozygous Black Arabian Stallion Standing
Breeder of Black & Homozygous Black Arabians
Breezy Acres Arabians
Basks Ebony Angel
1997 Black Arabian Mare
Bask Knight (x *Bask++) x MG Shahriyya
Ebony is a beautiful "power-house" of a mare. She stands at 15.2+ Hhs. and has more action than any other mare we've seen. She is Show and Blow locomotion all the way. *Bask++ comes through, big-time, in this mare. Her HUGE upright action is absolutely phenomenal! She is a MOVER!
Knowing Ebony's gift of Trot, it's not surprising that she is a very conformationally correct mare. She is exceptionally well put together. In addition to her *Bask++ shoulder, topline, and straight legs, she has a pretty head, with a big eye, that gets passed on to her foals.
Albeit, she is a showy girl, she is also an incredibly sweet mare that loves to be around people. During pecan season, you cannot pickup a single pecan without her there, right behind you. We hope that we don't have to work on the fence because she is into the tool-bag belt that is hanging on your waist ...and running her off can be difficult! All complaining aside, we wouldn't have it any other way. Her temperament is that of a true "tent" mare.
Ebony is truly a spectacular example of the Classic Arabian Mare. One look at her Pedigree explains all.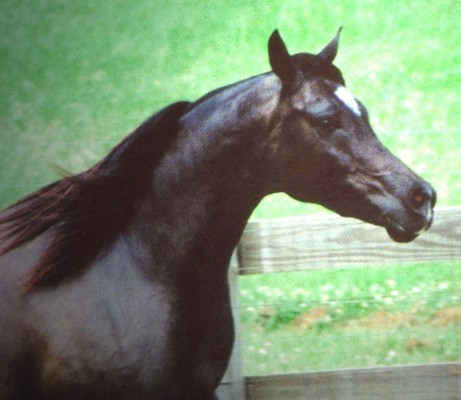 Ebony carries (and throws) the classic head of her sire and grandsire, *Bask++.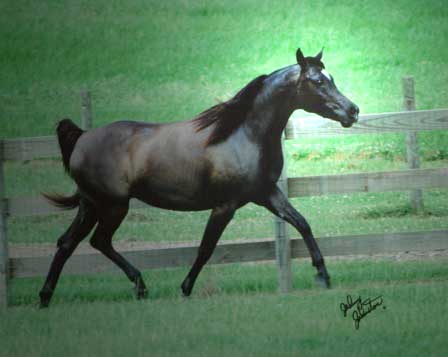 Ebony has that powerful shoulder that has been passed own through generations.
Note: above picture taken at 4 months pregnant!

Click on thumbnail above for a quick look at Ebony's Pedigree
or
view Ebony's Pedigree with Pics here.
---
Ebony's foals...
Click on thumbnails below to get a closer look at the foals
that Ebony has produced.
2007 Homozygous solid Black Colt x Faheem Al Maas
Born the rare solid 'Blue-Black'~ largest Purebred Arabian foal we've ever seen!
2006 Homozygous Black Filly x Faheem Al Maas
Nice Dishy head and LONG legs... this is a BIG filly!
Photos taken at 1 day old!
2005 Homozygous solid Black Filly x Faheem Al Maas


What Trot this filly had ...and beautiful head!
2001 Black Colt
(x Blacklord Falkhan: deceased sire of Faheem Al Maas)
If you want Type that can Trot, we have it Tall with level-headed Temperament ...all in Homozygous Black color!
Home About Us Faheem Al Maas Faheem Al Maas Video Broodmares Sales Foals by Faheem
Photo Gallery Breeding Info/Contract Facilities Color Genetics Contact Us Sitemap