Homozygous Black Arabian Stallion Standing
Breeder of Black & Homozygous Black Arabians
Breezy Acres Arabians
Jahaara Al Faheem
{ Arabic translation(s): Jewel of Faheem, Jewel of Black}
2008 Purebred Homozygous Solid Black Arabian Filly
DOB 3/13/08
Asking Price: REDUCED $5,900
$$ Prices are negotiable to Established Show Homes and Overseas Buyers. $$
by
(Homozygous Black) (Homozygous Black)
This filly is absolutely stunning!
Not enough can be said about this cross.. and this filly just proves it. She is not only gorgeous, but can move so fluid-like with tons of action- she's just a natural. Her personality is very sweet, easy-going and people-loving. She is a classic "form to function" ...a floating beauty. To top it all off, this filly is a solid Homozygous Black!
At 6+ months old, this filly is b-i-g!
"Jahaara" is weaned, halter broke, leads, picks her feet up and follows you around like a dog~ just has the sweetest, want to please and be in your pocket temperament..
...in addition to stunning looks!
This filly is so exquisitely typey; tippy ears, high, wide, large & expressive eyes, a gorgeous dishy head... just a beauty.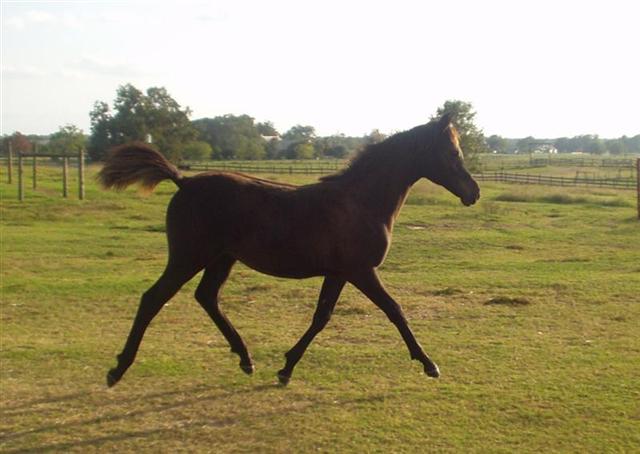 We are proud of how conformationally correct our foals are- wonderfully straight legs that tie into a fabulous hip...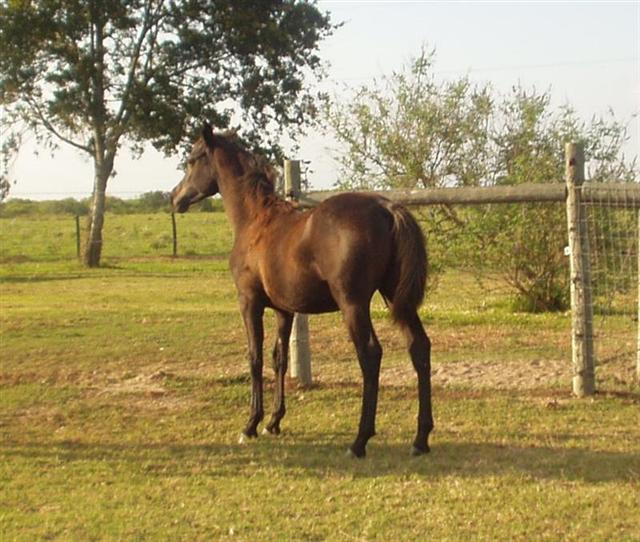 ...making for the mover this foal is. She can put on a major show of action!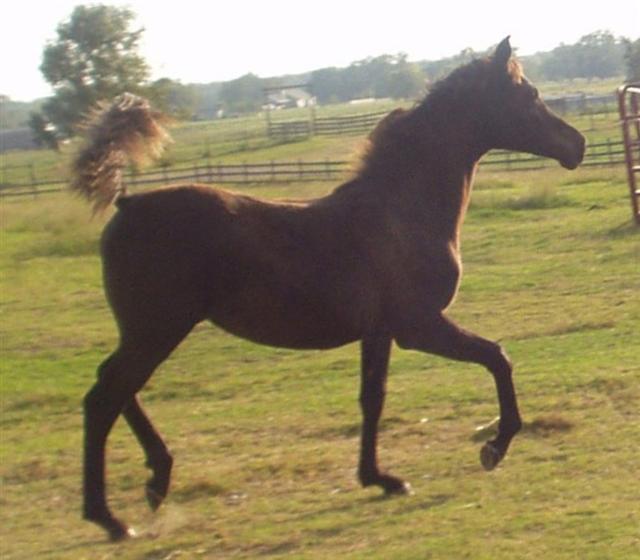 At not quite 2 months old...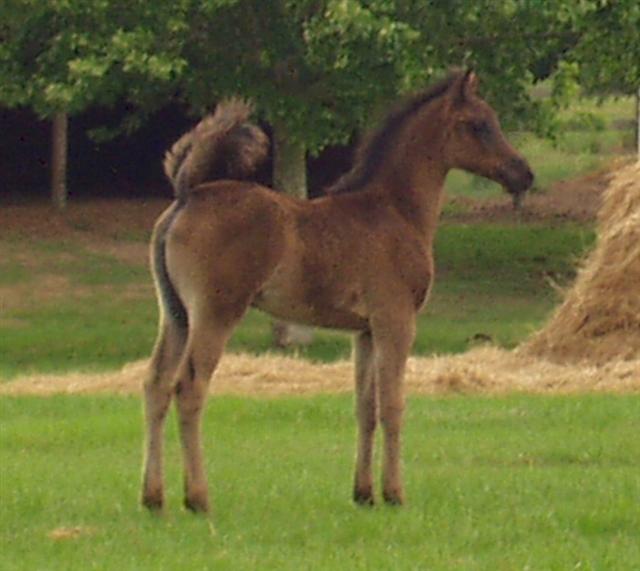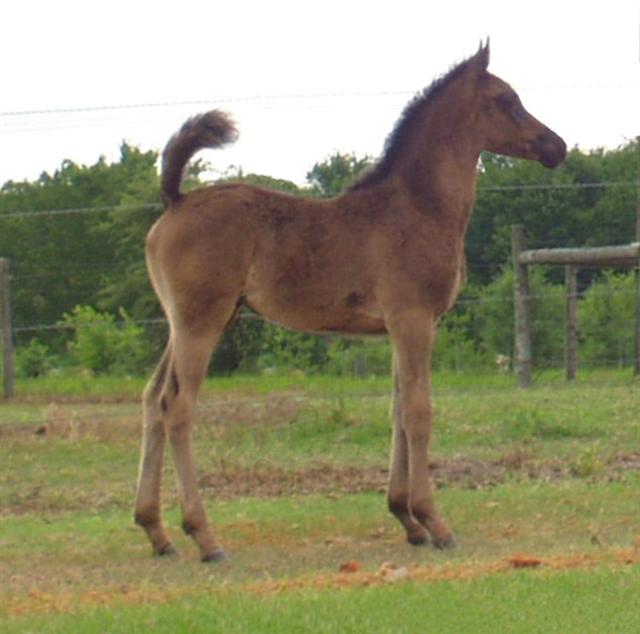 Foal coat is starting to shed to black around eyes & muzzle.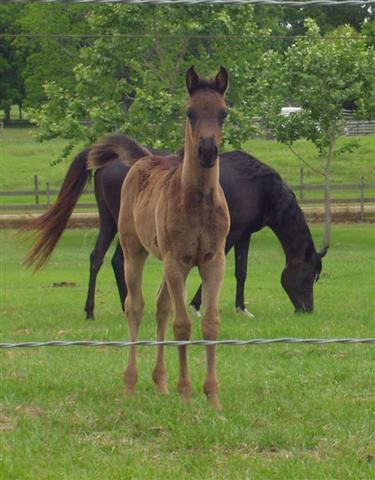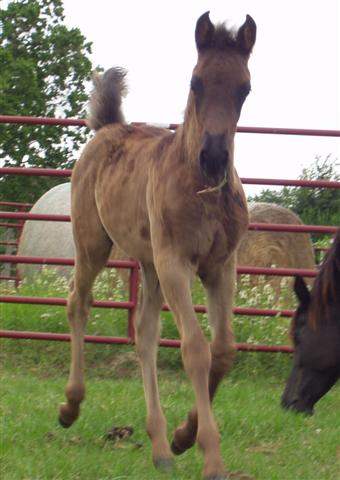 Spectacular dam behind.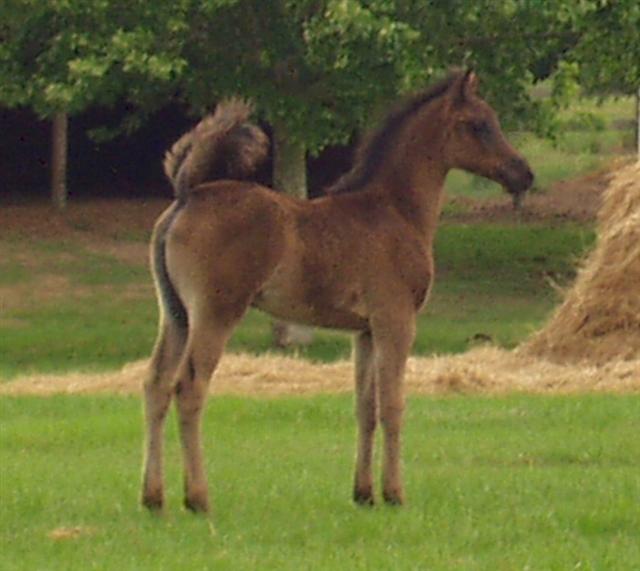 This filly is the sweetest ~ just like her sire & dam... she follows us around like a big puppy dog.
She walks on a halter, stands for grooming. picks up her feet- just a willing, eager to learn, in your pocket BEAUTY!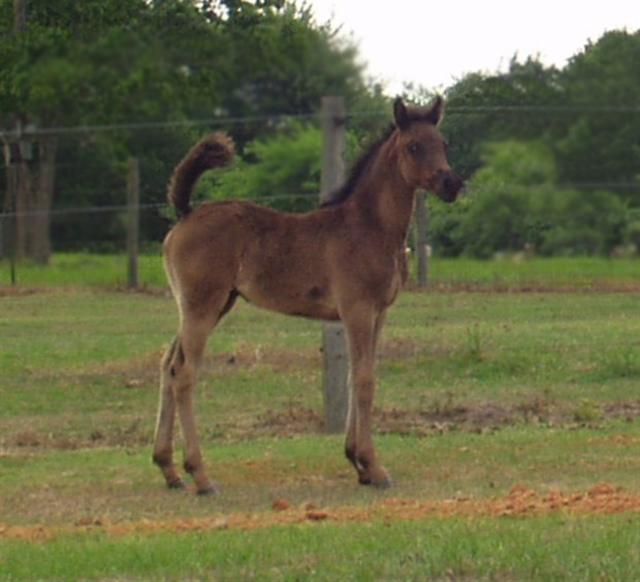 Below pics taken at 4 weeks old.
Feeling quite spry...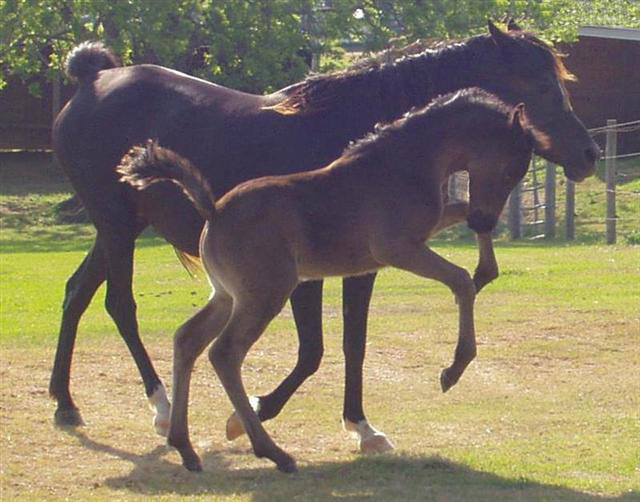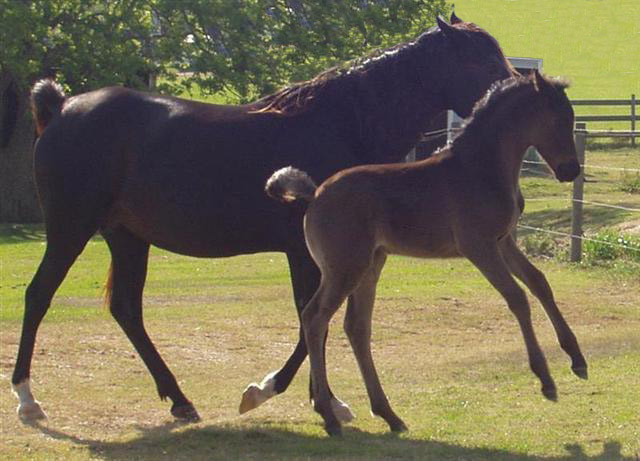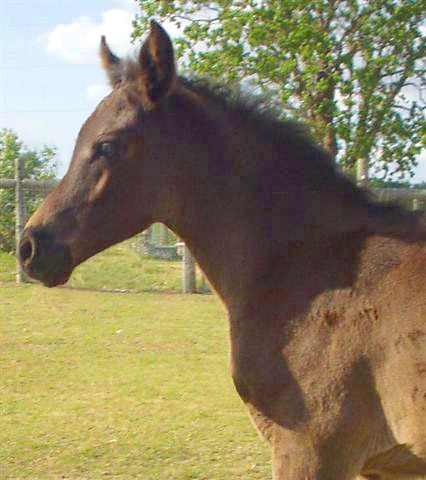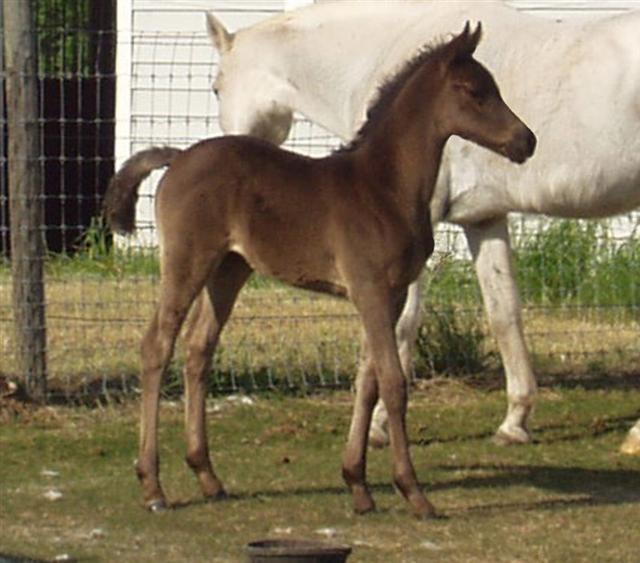 This filly is absolutely stunning~ just typey, dishy and correct. She is so upright & light on her feet with tons of action... is a definite mover.
She is just beauty & elegance in motion... and a TALL one at that!
Below pics taken at 2 days old.
Beautiful head~ short and very dishy!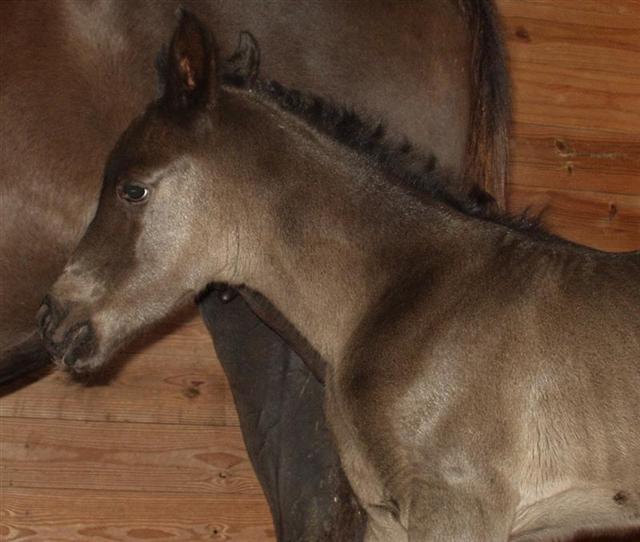 Looks like she got her Sire's fabulous shoulder!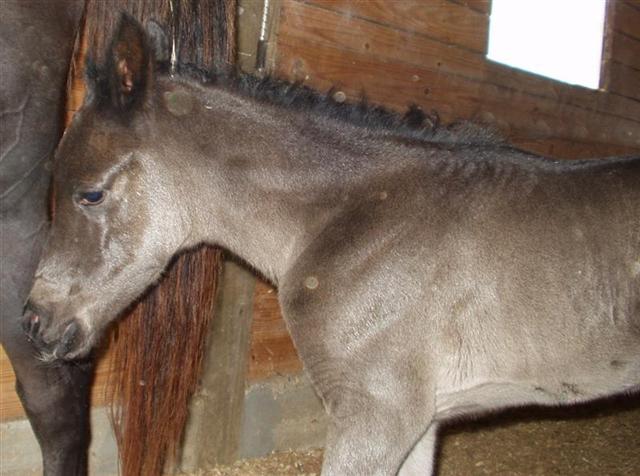 Legs ~ Legs ~ Legs ! ...long and impeccably conformed.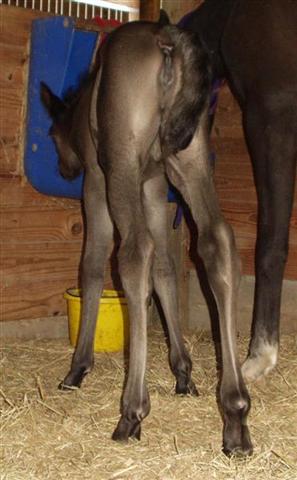 This filly is so lofty ~even at two days old. Though she is all legs, she puts them to use in quite an ordered and floating way. Even at this young age, she is showing her prowess for movement... it is unmistakably magnificent!
( aside from all this... she is as sweet as can be! )
Below pics taken at 24 hours old!
As expected... gorgeous tippy ears to boot!
Eyes set wide on the side...
...and that young 'ruffled-looking' forehead announcing the jibha on her spectacular head.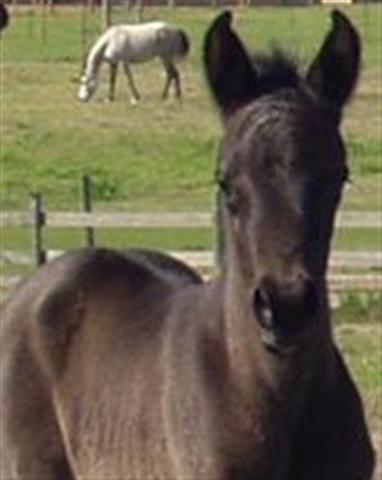 Just 1 day old and balancing to scratch with l-o-n-g legs!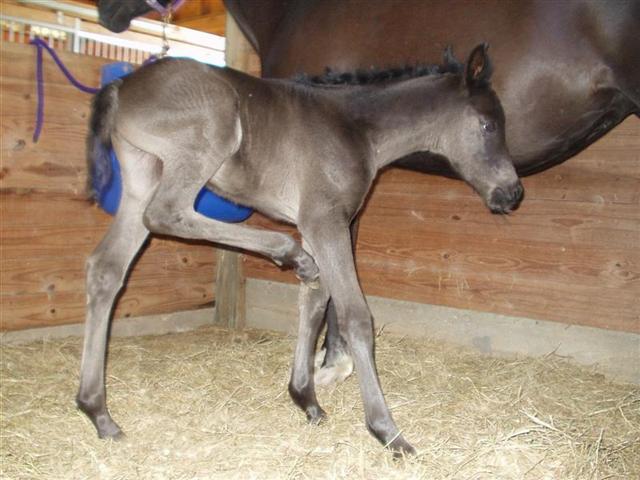 If you want Type that can Trot, we have it Tall with level-headed Temperament ...all in Homozygous Black color!
Home About Us Faheem Al Maas Faheem Al Maas Video Broodmares Sales Foals by Faheem
Photo Gallery Breeding Info/Contract Facilities Color Genetics Contact Us Sitemap