Breezy Acres Great Danes
Golieths Lil Diamond Smidgen
"Smidgen"
(so named for the 'smidgen' of white on her chest)
In memory....
3/29/02 ~ 3/1/10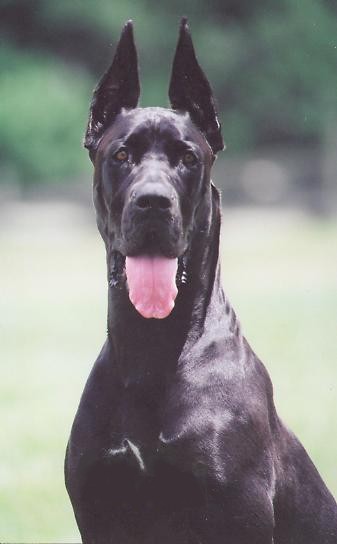 Smidgen is a beautiful black bitch, standing 34+" and weighing 141 lbs. She was whelped in March of 2002. Her temperament cannot be beat. She is your classic Dane; loving, attentive, intelligent, confident and, of course, very demonstrative. Not only is her temperament wonderful, she is a very typey Dane, as well. She has a GORGEOUS headpiece with a striking stop, tight eyes, and well set ears -all this set on a long neck into a nice shoulder.
Additionally, and even more important, Smidgen comes from healthy stock. She has had her hips x-rayed, which vet-checked good. As well, she is checked clear and has no thyroid, heart, or eye problems.
Please inform yourself on these important issues before you buy a Dane.
For Pedigree of Golieths Lil Diamond Smidgen

click on thumbnail above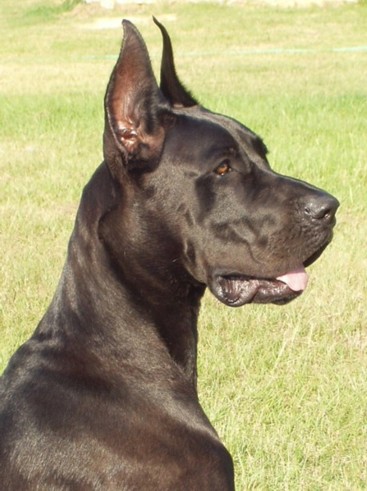 As you can see, Smidgen has a gorgeous headpiece,
beautiful tight eyes and a nice ear set
with length of neck to match.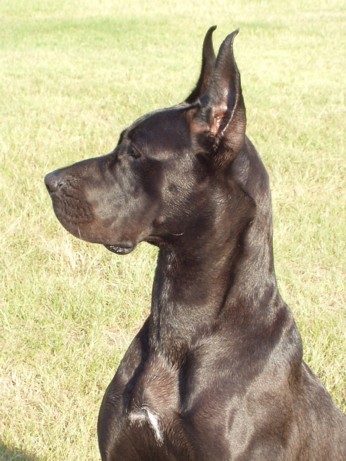 Breezy Acres Great Danes ...where Danes are beautiful enough for the ring, but are family first!
Great Danes -Home Dogs Brood bitches Puppies!