Breezy Acres Great Danes
2005 Puppies
* * * * * * * * * * * *
2005 Litter Stats:
Born Monday, March 7th, 2005

7 puppies; 4 Black males, 1 Black female, 1 Harlequin male, & 1 Solid Merle female

BIG and healthy!

At 2 1/2 days old, they weighed in @ 2 - 2.5 lbs.!

At 29 days old, they weighed in @ 11-12 lbs.!

At 42 days (just 6 weeks old!), they weighed in @ 18--20 lbs.!
Pups @ 1 week old...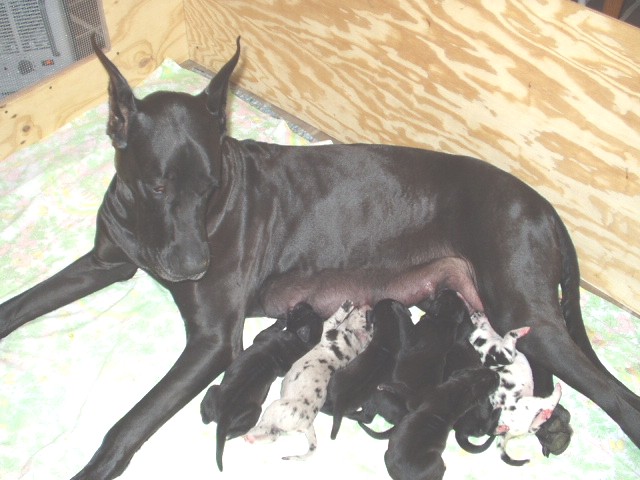 Pups @ 28 days old...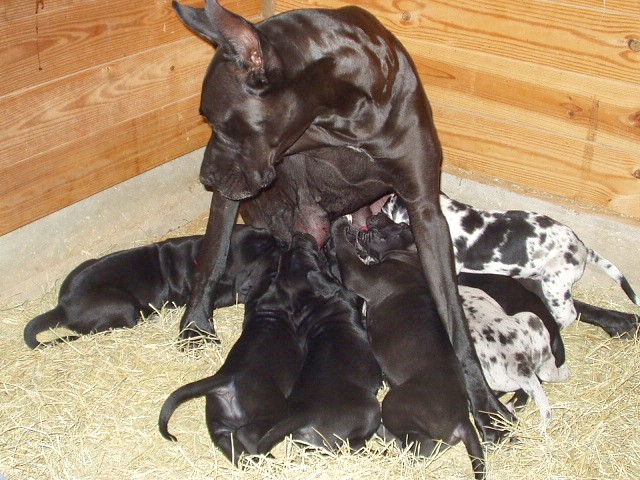 Pups @ 42 days old...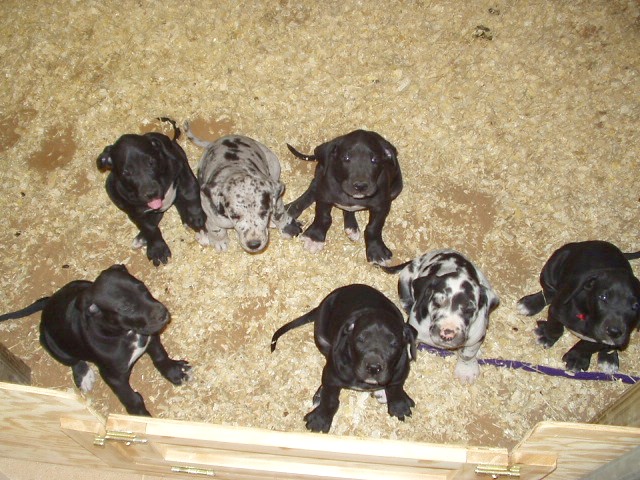 Puppies enjoying their play pen stall!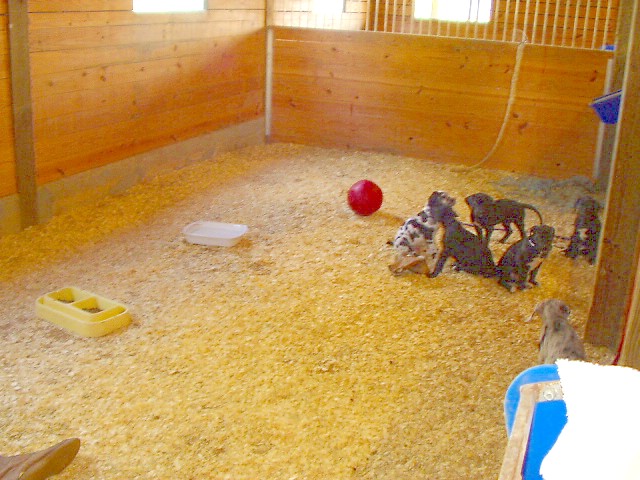 No, mama is not trying to eat one of her puppies...
she's enjoying playtime as well!
Then playtime with mama ended and it came time to say good-bye.
It was a bittersweet farewell as each pup left
with their new human pack.
---
** Click below on thumbnail for each puppy's page **
and watch them GROW UP...
*All <new> owners had naming rights*
---

"Hoss"
Congratulations to Katie!
...what a big, very sweet, loving boy he is!
---

Second born, Black Male
"Thor"
Congratulations to Dr. and Mrs. Friedman & Hayley!
He is a spry, charming, outgoing character that has to be right where you are -before you get there!
---

Third born, Black Male
"Mac"
Congratulations to Ernest and Bernice Bryan!
...what a lovable, affectionate boy he is!
---

Fourth born, Black Female
"Toto"
Congratulations to Sherri and Danny Kurtz!
...oh, this is 'mama's' beautiful mirror image with a little more white.
---

Fifth born
Grey Harlequin (also called solid merle) Female
"Smudge"
Congratulations to... us!
...this girl is gorgeous, big-boned, lovely way of going and full of personality! We think she would take everything in the ring ...if the judges were color-blind.
That's okay, we love her unique color!
---

Sixth born, Harlequin male
"Paolo"
Congratulations to Neil and Sandra Kurtzman!
...this boy wants to tell you ALL about it! He is so sweet that he seems like an 'old soul' in his beautiful new spotted body
---

Born seventh, Black male
"Smooch"
Congratulations to the Hubscher family!
....as his name could imply, this boy is a love! He is spry with his own wit, but a Smoochie King first!
---
Proud mama and papa...
dam sire
Breezy Acres Great Danes ...where Danes are beautiful enough for the ring, but are family first!
Great Danes -Home Dogs Brood bitches Puppies!